HELLO AND WELCOME TO YOUR FAVORITE COSTUME!
Hello! Thank you for checking out my listings! I am not new to selling costumes on the internet. I have been sewing and costuming for over 16 years. I have been selling costumes since 2004. I have sold here on ebay in the past and now I am reinventing my buisness here again.

To tell you briefly about myself I recently moved to Tennessee. I was born and raised in New York where I resided for Thirty years. My name is Sharon. I work for Books a Million and I love anime, video games, manga and I have many other intrestest as well.

Please be sure to ask me any and every question you have! I will be happy to answer or discuss anything my perspective buyer need to discuss. I AM LOOKING TO BUILD A GOOD WORKING RELATIONSHIP WITH THE SITE! PLEASE BE ONE OF MY FIRST CUSTOMERS HERE TO BUY A SET FROM ME! YOU WILL LOVE YOUR NEW ANIME COSPLAY SET!

MY SETS ARE SOLD AT THE LOWEST COST POSSIBLE!! YOU GET THE BEST DEAL FOR YOUR MONEY.
ON TO BUISNESS...
INCLUDED IN THIS SALE: WHAT YOU WILL RECIEVE WITH PURCHASE
YOU WILL RECIEVE: 1 KIMONO TOP, 1 WIDE LEG GOUCHO PANTS WITH ELASTIC WAIST AND 1 BELT.

The kimono top is nice and roomy. It crosses over in the front and has nice flowy sleeves. The pants are soft with an elastic waist. The belt wraps around the waist and ties how ever you like. This set is extreamly comfortable!!( Please be sure to read the size and measure yourself. I AM NOT RESPOSIBLE FOR IT NOT FITTING. YOU MUST MEASURE YOURSELF!)

MEASURMENTS FOR THIS SET ARE:
TOP:BUST/CHEST WIDTH: 34-38 inches, 18 inches across the back SLEEVE LENGTH: 23.5 inches LENGTH OF TOP FROM SHOULDER TO WAIST: 27 inches

PANTS: WAIST: 29-35 inches(elastic waist) LENGTH FROM WAIST TO ANKLE: 38 inches INSEAM: 24 inches

BELT IS ONE SIZE FITS ALL!!
COSTUME CARE INSTRUCTIONS
This and all of my costumes are made out of durable poly-blend fabrics and if cared for properly will last you years!! To best care for your costume please hand wash in cold water and hang to dry! Thats it and you will be enjoying this set for years to come. There are no loose ends or threads. The inside is durably hand surged and finished with a professional seam!
PAYMENT METHODS ACCEPTED
I currently accept PAYPAL AND MONEY ORDERS ONLY. Sorry, I do not accept cash or personal checks.
I AM PAYPAL VERIFIED!!
SHIPPING METHODS AND TIME FRAMES
This set is PRE-MADE AND READY TO SHIP! AT THIS TIME all COSTUMES ARE GUARUNTEED FOR HALLOWEEN.


I will ship to the USA only!!!


Your set will ship PRIORITY MAIL. Shipping is $16.00 for shipping AND Handling fee's. There are no refunds on any portion of this fee.

You will be sent a delivery confirmation number to confirm your item has been shipped so you can track it!

Insurance is $4.00 and is optional.

Overnight shipping is available for $26.00. There are no refunds on any portion of this fee.
RETURN POLICY: ALL SALES ARE FINAL
REFUNDS: I'm sorry but the items are not returnable for any reason. Please let me explain...when you buy a costume from me I not only had to buy the fabric but I also had to sew the set and ship it to you. Please now look at the cost you will pay...REALLY GOOD RIGHT?? I cant get my money back on the fabric, the shipping or the time so I'm really sorry there are no refunds, no returns and no exchanges but...I make sure you love it the first time!!! If are sure to read the size it will fit and be shipped promptly to arrive on time!! So you dont have to worry! This set is sold AS IS. It is PRE-MADE AND READY TO SHIP! Please make sure you check the measurments. It does have some leway so if you feel it may be off within and inch it will fit you. I WILL NOT RESIZE this set! It was made soley for you to have for halloween.
BUT... If there is a problem...email me!!! I'll fix it no matter what! I want every sale to be a good one. As long as we are willing to talk if anything did go wrong, it would be rectified! Immediatly:D
SAMPLES OF MY PREVIOUS WORK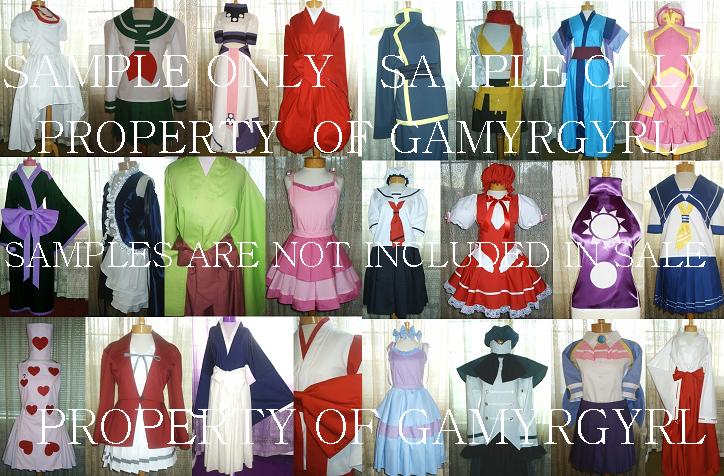 THESE ARE SAMPLES ONLY!!!! THEY ARE NOT INCLUDED IN THIS SALE. YOU WILL NOT RECIEVE ANY OF THE COSTUMES SHOWN IN THESE SAMPLE PICTURES ONLY WHAT IS LISTED AS THE SALE ITEM AND LISTED IN THE SALE DESCRIPTION. ITEM FOR SALE IS SHOWN SEPERATLY. THESE SAMPLE PICTURES ARE FOR THE PURPOUSE OF YOU SEEING MY WORK ONLY. THANK YOU AND PLEASE ENJOY!
A FINAL NOTE ON OUR SALE
LAST NOTE: I want anyone interested in this set to please email me. I will answer as promptly as I can. If I do not answer immediatly I was at work but I will be checking promptly for mails. I love to sew and have been doing so for many years. I am more than happy to discuss costumes, Cosplay, Myself, anime or anything else that any prospective buyer wants to discuss. I want to have you want another costume from me once you see how much you'll enjoy the first one! Thank you for looking at my post!

EMAIL:Please email me through ebay or my email address: GAMYRGYRL@GMAIL.COM
PLEASE REMEBER!! READ EVERYTHING PLEASE BEFORE BUYING! IT IS YOUR RESPONSIBILITY *All sales are Final, No Returns, No Refunds, No Resizes*
Thank you and please enjoy!